Leaky Cauldron – Diagon Alley review – by Chuck Blades
The Leaky Cauldron is a "Quick or Counter Service" restaurant located in the brand new Diagon Alley at Universal Studios Florida. The Leaky Cauldron really excels with good food and incredible theming! From an authentic English Pub Menu to the details of he pub everything was top notch! To be quite honest the overall theming of Diagon Alley was truly breathtaking and the reveal from the London Waterfront into Diagon Alley was absolutely Jaw Dropping by far the best "reveal" in any theme park that I've ever been in!
Everything in the Leaky Cauldron was executed perfectly! As a Harry Potter fan I couldn't help but wander around in awe! We spend an hour in the restaurant and I still didn't take in all of the details!
Inside the Leaky Cauldron: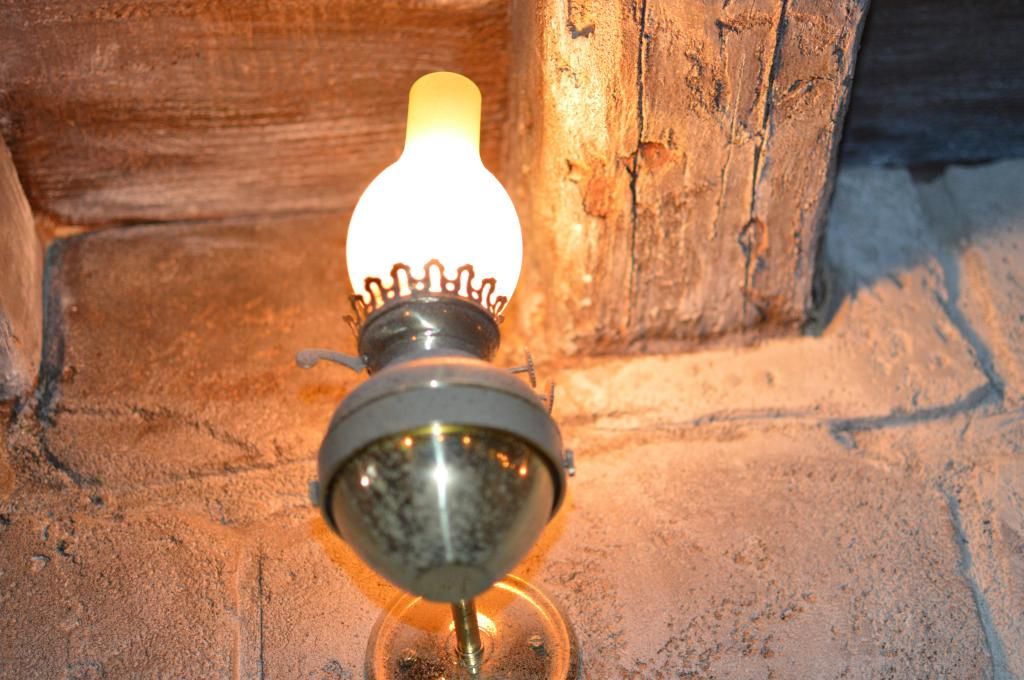 Diagon Alley Like Be Our Guest at the Magic Kingdom takes advantage of RFID technology… Instead of ordering at a counter and waiting for your food you order and are then taken to a table once seated you are given a Candle Stick – several minutes later your food "Magically" arrives at your table!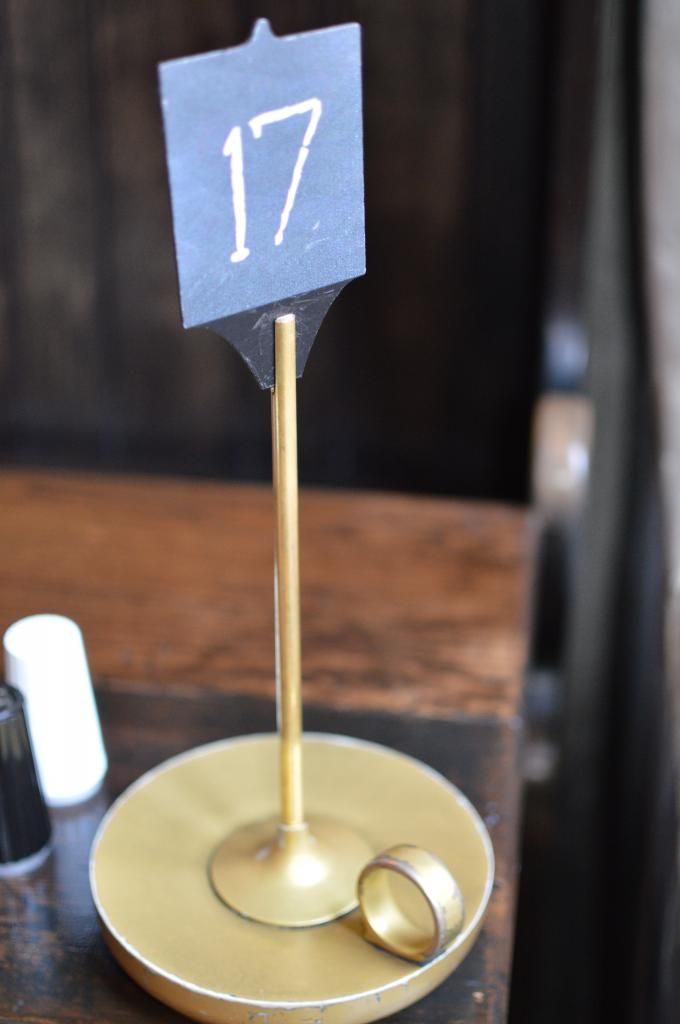 Our View from our table was really fantastic! One of the best views in any theme park period! I really felt like I was a wizard sitting right outside of Diagon Alley in the middle of London!
Leaky Cauldron Menu -
ButterBeer -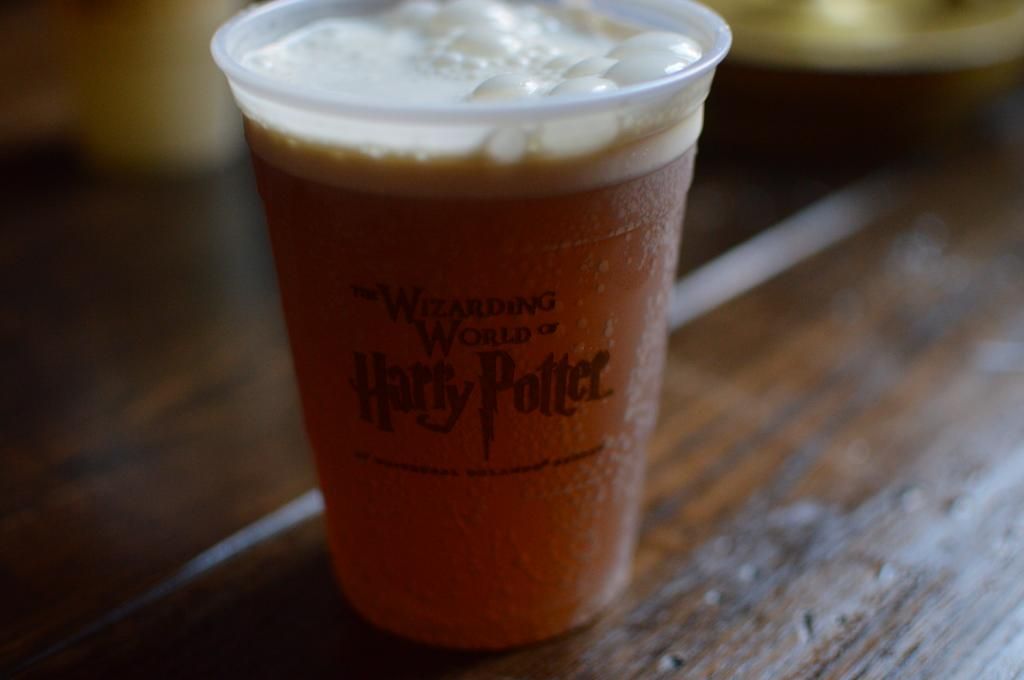 In keeping with the Wizarding World Theme Diagon Alley only offers "Wizards Drinks" In my opinion you have to order the ButterBeer! This is one of the most famous things from all of the Harry Potter Books and being able to try it was an extremely awesome experience! The Butterbeer was excellent something that I really enjoyed – It was really sweet and creamy it honestly reminded me of a frozen creme soda!
Food:
Toad in the Hole – overall this dish was pretty good – the sausage and breading were both flavorful and the vegetables seemed to be fairly fresh.
Beef Lamb and Guinness Stew – This dish was really unique – I loved the steak it was extremely tender – the Stew reminded me of a pot roast in a bread bowl – a little heavy for 85 and sunny but it would be perfect in January or February.
Fish and Chips – the fish and chips were on par with the best I have ever had! They were very flavorful, quite honestly the breading was good enough you didn't even need any tartar sauce. This was by far the best dish of the day!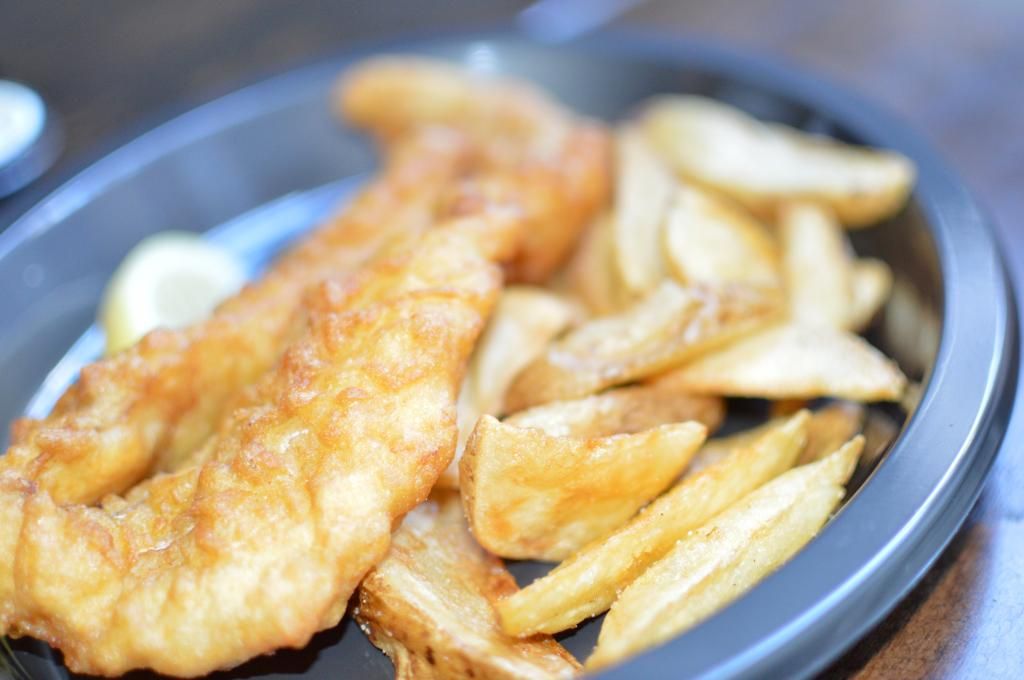 Rating:
I will rate the Quick Service restaurants a little differently than the Table Service Restaurants
Atmosphere: 10/10 As a Harry Potter fan this restaurant was one of my favorite things in all of Diagon Alley! I can remember being a little boy reading the first Harry Potter and wanting to visit the Leaky Cauldron and Visit Diagon Alley! This restaurant does a fantastic job of bringing me into one of my favorite worlds!
Service: 10/10 I normally would not rate the service at a counter service restaurant however it was very efficient and everyone was very friendly so therefore I will rate this a perfect 10 it was top notch!
Food: 8/10 Each of us ordered something different and everything was pretty good – I do not think the food was as good as Be Our Guest at the Magic Kingdom however the British are not really known for their excellent culinary creations! Everything was fresh and well done and I loved the ButterBeer so therefore I scored this an 8.
Overall Score: 10/10 This is one of my favorite restaurants in all of Orlando! Counter Service or Table service! The food was above average and the theming was extraordinary!
If you liked this review and would like to read more check out our:
Continue to Check our blog for upcoming restaurant, ride and many other reviews!
Thank you for your support!
Goofy Getaways LLC